Look at a flower—simply look—without judgment or projecting your likes and dislikes, memories or desires on it. Appreciate the colour, form and fragrance of the flower for what it is.
If you can do that, the beauty of the flower fills you with a sense of surprise and wonderment. It shuts out all other thoughts and draws you into itself.
Being and observing nature is an effortless and pleasant way to connect with the divine. Nature stills your mind and fills you with joy.
As photographer Louie Shwartzberg says, "Nature's beauty is a gift that cultivates appreciation and gratitude,"
Gratitude is a stream of thankfulness and appreciation for what you have.
Five precious gifts that allow us to take in this beautiful world are our senses—the eyes, ears, nose, tongue and skin.
Every second in nature is a piece of art.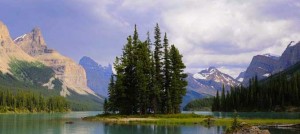 A piece of art or photograph depicting a natural scene captures the sky, trees and water in a static moment in time.
But at every second, the creator paints an exhilarating new canvas, perfectly capturing the innumerable changing elements in every scene.
Just think—your eyes feast on an infinite number of canvases everyday!
What's truly amazing is that each scene excites multiple senses—you hear the sounds, feel the air and smell the scents around you—all at the same time.
An expansive feeling of joy and love fills your heart that makes you want to share those feelings and give to others.
The best gifts that you can share are your natural gifts.
Buddha story of our five treasures
I once read a story of a poor man who went to Buddha and asked him why he was so poor.
Buddha told him he was poor because he didn't practice giving. "But how can I give when I have nothing to give?" asked the man.
You are already rich. "You have five treasures," he told him.
"Firstly, you have a face that can smile at people and make them feel at ease and happy.
Secondly, you have two eyes that can express love and caring. How you use your eyes can positively impact a person.
Third, you have a tongue with which you can speak words of kindness and uplift others' spirits.
Next, you have a heart to reach out to others with love and blessings.
And lastly, you have a body which you can use to serve and help others.
Be grateful and give! Then you will never be poor," said the Buddha.
Oprah short film on beauty and gratitude
"Gratitude" is a short film by award-winning filmmaker, Louie Schwartzberg. Portrayed with his stunning photography, this film is a feast for your eyes.
Written and narrated by Benedictine monk, Brother David Steindl-Rast, it is an Oprah's Super Soul Short film. You can view it below.
Brother David tells us to find beauty in every moment and reminds us that today not just another day—it is a gift. And, the only fitting response to that gift is gratefulness.
"If you do nothing else but cultivate that response [gratefulness] to the great gift that this unique day is, if you learn to respond as if it were the first day in your life and the very last day, then you will have spent this day very well," he says.
His advice is: "Open your heart and let the blessings flow through you so that everyone you meet on this day be blessed by your eyes…your smile…by your touch or your presence. Let the gratefulness overflow into blessing all around you."
Expressing gratitude in every day, for every day, and for the exquisite beauty of nature around you, and the many blessings in your life will truly make each day worthwhile.
Enjoy the film!
Like this post? Sign up for the free fortnightly Spiritual Solutions Newsletter and receive the latest articles, news and updates in your email inbox!