Meditation and Stress Relief Fundamentals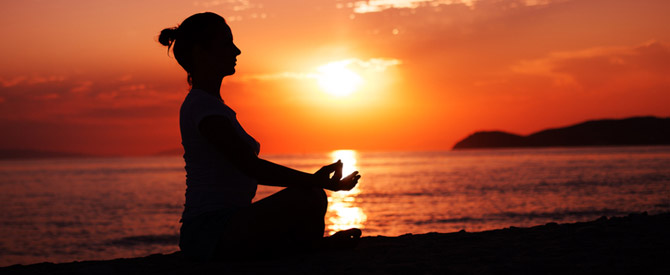 4-Week Course Using Breathing and Relaxation Techniques to Prepare Your Mind for Meditation
Venue: On-line Via Zoom
Time: 6.30 pm to 7.45 pm
Dates:  April 8, 15, 22, & 29, 2020
Fee: Payment is optional 
Session 1: The Breath–The Gateway To Mental Quietude

Mind-breath connection.
Deep breathing for relaxation.

3 parts to every breath
Practice: Breathing into the upper part of the lungs

Meditation–Focus: Body

Session 2: Vital Life Energy
Understanding prana, the cosmic life energy and its connection with the breath.
Prana and your body's health.
Deep yogic breathing

Engaging the abdomen while breathing

Meditation–Focus: Breath

Session 3: Balancing The Energy Flow
Understanding the sun and moon energy channels in the left and right nostril and their influence on the body and mind.
Alternate nostril breathing

Hand gesture
Benefits of alternate nostril breathing

Meditation–Focus: Mind

Setting up a dedicated space for meditation.
Using symbols for your spiritual practice

Session 4: Aligning Body, Breath And Mind
Putting it all together: Yogic breathing and Alternate nostril breathing
Meditation: Focus: Body, Breath & Mind

Time, Duration & Frequency
The significance and chanting of OM
I am the silent observer
 

 
Manisha brought me into understanding breath, connectedness, mindfulness and an awakening that has fundamentally changed my life is the most powerfully joyful way.
I have read testimonials like mine before and questioned the sincerity because it seemed too good to be true.
Manisha is a powerfully informative teacher. Manisha's delivery is gentle, thoughtful and always delivered with non-judgement. I cannot say enough. If you have the chance, register for anything that interests you. She is a wealth.
J. Jones
The first of Manisha's courses that I attended was "Meditation & Stress Relief Fundamentals" and followed soon after by "Managing Modern Stress with Ancient Wisdom." In each course, I attended 4 sessions.
I started noticing positive results by session 3 of the first course. I didn't mention this to anyone, just in case the calm didn't last, but it did. Now I tell whomever I think it may help.
For the past 3 months I have established a daily practice of what Manisha taught me in her classes. It's very simple, nothing complicated– it's all about the breath. Manisha taught me the "How, Why & When" of breathing.
At 70, I found that I had been doing it all wrong. Once I figured it out, my anxiety level dropped.
Manisha has given me so many gems of knowledge that now I'm afraid to miss a class. She is truly a gifted teacher.
Margaret
It's been said:"When the Student is Ready, the Teacher Appears." Good karma my path directed me to Manisha.
Manisha instills calm and radiates positive energy from the moment you enter the room. This is my second series of meditation classes with Manisha and I feel an overall enhancement in my wellbeing.
I am an avid *Master Swimmer and proficient in the technical aspects of swimming. Breathing relaxed and efficiently over a one hour workout is one of those technical aspects. Since attending Manisha's Meditation classes my breathing is more relaxed. This improvement, while subtle, has enhanced my overall technique with perceptible results when distance swimming e.g. 3,000 metres.
Like many people, my previous attempts at meditation had no permanency. I now feel confident that with Manisha's guidance I am on track to greater self-awareness.
I plan to continue my meditation journey with Manisha.
Gordon Wilson
Manisha, your session on breathing really opened my eyes about how much I was neglecting such a basic and very important function of my body.
I went home that day and taught all three of my daughters how to practice deep breathing. One of my daughters had a cough for several months now which was making it very difficult for her to fall asleep at night. Now we practice deep breathing exercises every night and I've noticed she has been coughing less and she falls asleep much faster after we started with the breathing exercises.
Sometimes I'll have my kids come to me randomly in the day and say "mommy let's do the breathing thing" and we'll just sit and breathe. It's actually amazing seeing how much they enjoy it.
Thank you for teaching me this gift. Feel free to use this as a testimonial. I'm very happy to share my experience as it has changed our lives.
G. Gowher
Manisha's meditation course was insightful and full of excellent information. Manisha has a way of explaining things that make them clearly understood and memorable."
Heather S., Richmond Hill
Hi Manisha, I loved your meditation and stress course. It made me realize how important it is to breathe properly and I thank you for that information. You are full of beautiful energy and knowledge and you inspire us all that want to continue on this spiritual path. I thank you again. It was a blessing for me to have met you
Susan Shrewsbury
I just completed 4 sessions of the meditation classes with Manisha. It was a wonderful experience. Manisha is an amazing teacher. She explained things in a way that was easy to understand. She has so much to offer and I look forward to attending more of her sessions. I would very highly recommend attending Manisha's meditation classes.
N.P.
Having known Manisha for over decade, I have always admired her for passion toward her work. Recently I attended Manisha's 4-week Meditation and Stress Relief Course where she taught relaxing breathing techniques to prepare for meditation. It was a well-planned course that covered all aspects of meditation. I appreciate her in-depth knowledge, love of the subject and her readiness to support the attendees.
Kiran K.
A few weeks ago a group of 10 ladies including myself participated in learning about breathing techniques for relaxation with Manisha. Manisha helped us by giving clear instructions and explaining each technique so it was easy to follow. This was so helpful and relevant to every single one of our stressful lives .I am so glad to have gotten the opportunity to learn this.
Tal B.